Goli Nutrition Reviews
What Are 'Goli Gummies' and 'ACV Gummies'?
First, let me explain ACV. ACV stands for Apple Cider Vinegar — it's a vinegar made from fermented apple juice. ACV is reported to have a range of potential benefits, and while vinegar has been used for centuries, ACV really took off around 2017. Much of its reported benefits, such as for weight loss or to manage blood glucose levels, are not backed by a lot of research (note the Healthline article I link to above just says it may aid weight loss, may help lower blood sugar levels etc). But there's enough going for ACV that many people take it, and in the years since it's become popular, many people report to have gained all kinds of health benefits from it.
There's just one problem with ACV: it tastes horrible. Very sour and unpleasant. And actually, you're not supposed to drink ACV neat, not just because of the bad taste but because it erodes your teeth enamel and can potentially cause throat burns. It's an acid, after all. And as many people have reported, no matter what you mix ACV with, it's near-impossible to mask the bad taste as long as you're drinking it.
The solution? infuse edible gummies with ACV. That's exactly what the Goli Nutrition company has done:
Goli is by far the biggest supplier of ACV gummies. Let's go through the product and the main questions people have about it.
Introducing the Goli Nutrition Brand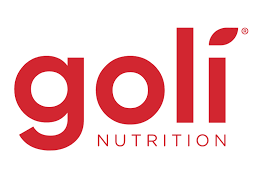 It's a nutrition company that believes in simplified health and wellness. Their goal is to help their customers reach their nutrition goals while enjoying their daily supplements. Anyone who has ever had apple cider vinegar knows that it's not exactly pleasing to the tastebuds - but these gummies are!
They make two products and two products only: apple cider vinegar gummies and Goli Ashwagandha gummies. With their gummies, they believe that they can help their customers not only achieve improved health but also happiness.
The Goli apple cider vinegar gummy is gluten free, gelatin-free, vegan, non-GMO, and made with only highly tested and selected organic ingredients that are free from artificial sweeteners and preservatives.
One of my favorite things about this company is the fact that they participate in the Vitamin Angels program where every purchase made supplies a child in need with a 6-month supply of vitamins. This is a mission that I think we can all stand behind and be proud to participate in.
Goli Gummies Ingredients: What's In Their Apple Cider Vinegar Gummy?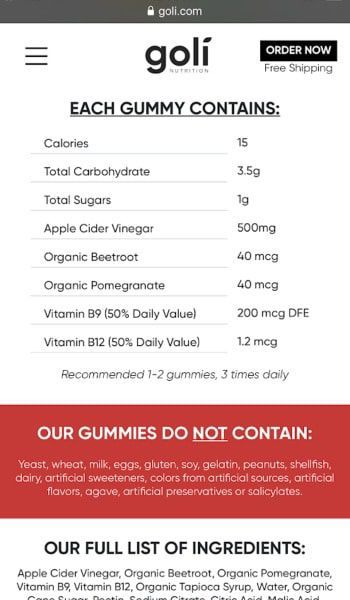 A list of what each gummy contains.
1. Apple Cider Vinegar
2. Organic Beetroot
3. Organic Pomegranate
4. Vitamin B9
5. Vitamin B12
6. Organic Tapioca Syrup
7. Water, Organic Cane Sugar
8. Pectin
9. Sodium Citrate
10. Citric Acid
11. Malic Acid
12. Natural Apple Flavors
13. Organic Carrot
14. Organic Apple
15. Organic Blackcurrant
I love that this apple cider vinegar gummy is made from real, organic ingredients that are easy to read and understand. The flavors and ingredients are designed to mask the taste of vinegar so that you can reap the benefits without the yucky taste.
How do Goli gummies compare to other gummies?
There are a few other companies that offer ACV gummies. I've compared each of them to Goli below:
Goli vs Wellpath: Wellpath offers pure organic ACV gummies that, like Goli's gummies, have been very well received. There are a few differences, the main one being that there is a lot more sugar in Wellpath's gummies (2.5 grams of sugar per gummi, compared to 1 gram in Goli's) and more carbs. That probably won't make much of a difference to your body compared to the total amount of sugar you take in a day, but if you're on a diet or trying to limit carbs, you may do better picking a different brand. Like Goli gummies, Wellpath's pure gummies taste good. Price is also marginally lower at the time of writing ($17 for a pack of 60, vs $19 for Goli). If you order Wellpath's gummies on the website, you can get a monthly subscription for $17/month where you'll get a new bottle every 30 days (not necessary if you don't want it).
Goli vs BeLive: I love how BeLive's gummies are sand coated. Reminds me of actual candy gummies I'd eat as a kid. But the main thing about BeLive's gummies is that there is ZERO sugar, which makes it very different to all other ACV gummies on the market. So if you hate sugar or want to limit it, these are the gummies for you. I'd also recommend them for kids. They're marginally more expensive ($19.50 for a bottle) than Goli.
Goli vs Nature's Trusted: NaturesTrusted gummies are some of the cheapest ($14.88 for a bottle of 60 on their website right now, with discounts for more bottles) and have high sugar content like Wellpath's at 5 grams per serving. They taste great too. If you're buying 3 bottles, the cost is only $34.88 right now compared to $57 for Goli, so definitely get these if you're budget-conscious and don't mind a relatively high sugar content. It may be worth mentioning that a small handful of people on Amazon have reported that they loved the first bottle they ordered of these, but the second bottle was bad. We don't know about the validity of these claims though.
There are the 3 main competitors to Goli and they are all easily available (either on their official websites, or on Amazon).
Analysis of Customer Reviews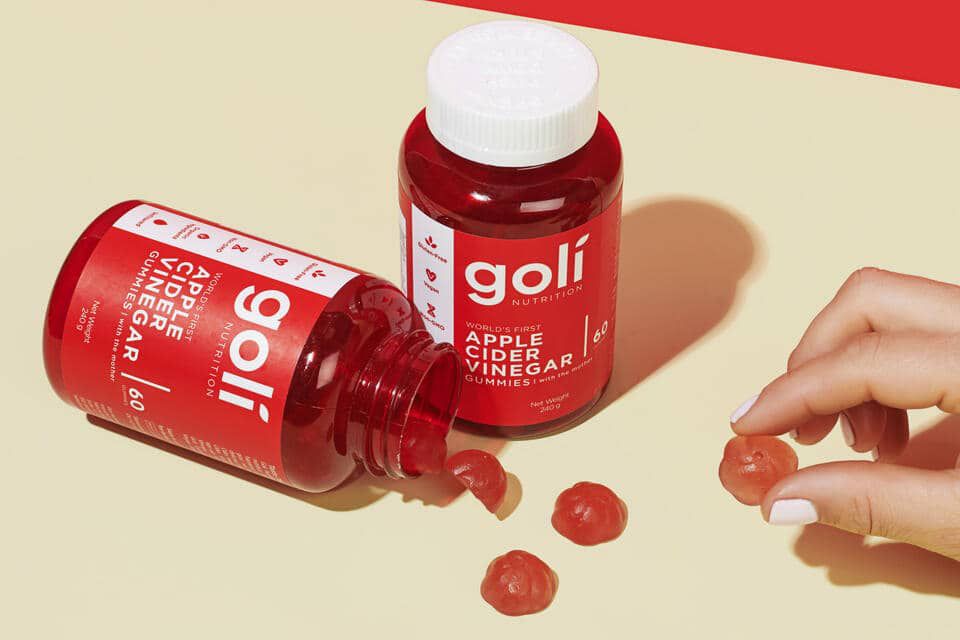 Over ten customers have left reviews of Goli Gummies on our website. They average 3.5-stars with a 55% recommendation rating. There are more than 12,500 reviews on Amazon, which averages 4.4 stars.
Here's a summary of key takeaways from the customer reviews.
Common Compliments:
Great taste
l Easier to take than traditional apple cider
l Calmed down acid reflux symptoms
l Led to external improvements like fewer breakouts, less dry skin
l Reduced bloating, craving for sweets
l Possibly led to better results on blood tests
l Reduced cravings for sweets
Common Complaints:
l Didn't lead to significant weight loss
l Too expensive for the benefits
l No noticeable changes or improvements
l Caused some nausea for many users
The Bottom Line
Overall, Goli Nutrition (world's first apple cider vinegar gummy vitamins) reviews are excellent worldwide, and many of its users have added it to their daily diet and seem pleased with the Goli Nutrition.
If you'd like to try Goli gummies, you can purchase through https://go.goli.com/cp4r (that's our personal partnership link with Goli) to get a significant discount (the discount % offered may vary from time to time depending on the promotions that are running).